The Watch Tower Society has issued a new letter to all Bodies of Elders instructing them on how to handle cases of child abuse in the wake of the Candace Conti verdict.
It was hoped that the Governing Body would use the lessons learned from the Conti case to bring the Society's child protection policy into conformity with the law, not to mention the basic principles of community responsibility.
However, it is shocking to note that this October 1st letter addresses none of the key procedural flaws that lead to the children of Jehovah's Witnesses being routinely exposed to predatory pedophiles within the organization. Such individuals are often aware of the loopholes in the judicial practices of Witnesses and how to effectively exploit these to gain access to new victims. Still, despite the jury's multi-million dollar award of punitive damages against the Society in the Conti case, little is being done to ensure that similar cases do not arise in the future.
If anything, the Society has rigidly stuck to its stance on the "two witness rule" and has assumed yet more jurisdiction for itself in deliberating over these sensitive and often complex cases. In an astonishing development, the Society is now insisting that the branch office should have the final word in deciding whether a pedophile is to be considered a "predator", or even a "known child molester".
Only if the brothers at the branch office determine that a brother is a "predator" can parents in the local congregation be warned of his tendencies. Only if the branch office decides that a brother is a "known child molester" can he be blocked from ever serving as an elder. Many would rightly argue that whether or not someone is to be classified in these ways depends on the local law enforcement authorities, not some remote branch office of Jehovah's Witnesses.
Barbara Anderson, who is a well-known campaigner for the protection of children in the organization, noted the significance of these dramatic changes in policy, saying: "Both of these are radical departures from Watchtower's historical position that matters are decided locally." She added, "By taking these decisions in-house, Watchtower is admitting that judicial decisions are not made purely by local elders on the scene. This is a pill being swallowed by Watchtower, the result of recent litigation. I believe this letter opens up the Watchtower for more liability, not less. In my opinion, a religion shouldn't be making a psychological/criminal evaluation that others in the religion are counting upon. This could lead to serious problems."
The letter was once available for download on these pages, but has now been removed for legal reasons. However, if you have a friend or relative who is an elder, he should be able to confirm its existence. In the next few paragraphs I will be explaining (with quotes) why this letter falls so woefully short in offering guidance to elders that would genuinely serve to protect Witness children, and why so little has changed despite the June 2012 verdict.
The "Two Witness Rule" still stands
At the epicenter of the Watch Tower Society's entire approach to the handling of cases of child abuse is their love affair with the "two witness rule". It is because of this rule that a pedophile is considered innocent unless two people witnessed the abuse (the victim and someone else) which is hardly ever the case in instances of child molestation. Usually child molesters are smart enough to carry out their despicable crimes without someone else watching.
It is also because of this rule that the Society insists on managing all child abuse cases themselves to the extent possible, because (in their view) they do not want those accused of child abuse to be judged by "worldly" standards, but through God's standards as determined through a mistaken application of the Mosaic law.
The Society also has a keen eye on its public image and reputation, and its latest measures to increase its power and control over congregational decisions is a clear indication that local application of the "two witness rule" on its own is becoming increasingly inadequate in their eyes. This raises the question, if the rule is becoming so complicated to implement with regards to child abuse, does this alone not indicate that its application needs to be completely revised in judging cases of criminality?
Indeed, it was hoped that the Conti case might result in the Society revisiting the "two witness rule", and perhaps coming to the realization that they are wrong to apply it to criminal matters. However, sadly this has not happened. Note the following comments in paragraph 11 of the new letter…
"In addition, the elders should investigate every allegation of child sexual abuse. When elders learn of an accusation, in addition to this letter, they should carefully review the direction outlined in the Shepherding textbook, chapter 12, paragraphs 18-21. However, in evaluating the evidence for internal congregational purposes, they must bear in mind the Bible's clear direction: 'No single witness should rise up against a man respecting any error or any sin . . . At the mouth of two witnesses or at the mouth of three witnesses the matter should stand good.' (Deut. 19:15) This requirement to consider testimony of two or three witnesses was confirmed by Jesus. (Matt. 18:16) Thus, although they investigate every allegation, the elders are not authorized by the Scriptures to take congregational action unless there is a confession or there are two credible witnesses. However, even though the elders are not authorized to take congregation action when there is only one witness, the elders should remain vigilant with regard to the conduct and activity of the accused. (See paragraph 12 of this letter.) If two persons are witnesses to separate incidents of the same kind of wrongdoing, their testimony can be deemed sufficient to take judicial action. (1 Tim. 5:19, 24, 25) If the person is not repentant over the gross sin, disfellowshipping action would be warranted."
You will see from the above quote that the Society uses two citations from the Greek Scriptures in support of their application of the Mosaic "two witness rule". These are as follows:
"Moreover, if your brother commits a sin, go lay bare his fault between you and him alone. If he listens to you, you have gained your brother. But if he does not listen, take along with you one or two more, in order that at the mouth of two or three witnesses every matter may be established." (Matthew 18:15,16 – New World Translation)

"Do not admit an accusation against an older man, except only on the evidence of two or three witnesses. Reprove before all onlookers persons who practice sin, that the rest also may have fear…. The sins of some men are publicly manifest, leading directly to judgment, but as for other men [their sins] also become manifest later. In the same way also the fine works are publicly manifest and those that are otherwise cannot be kept hid." (1 Timothy 5:19,24,25 – New World Translation)
If you notice the text that I have highlighted in bold in both scriptures, something should become immediately apparent. That is, both scriptures apply the "two witness rule" of the Mosaic Law in judging over cases where a brother in the congregation commits a sin. In the case of Matthew 18 it is a case of a brother committing a sin against another brother. The scripture in 1 Timothy describing an "accusation" appears to be little more than a rewording of Jesus' words in Matthew 18. The fact that the "accusation" refers to some form of sin is made clear by the context (highlighted by the Society) in verses 24 and 25, which I will go into in greater detail shortly.
The problem we have is that the Society has an entirely wrong perspective of child abuse as being first-and-foremost a sin, and only coincidentally a crime depending on the laws of the land. This is the reason why, if an accusation of child abuse comes to light, the elders will assume this falls under their jurisdiction to investigate the matter (because it is a sin), when really the supreme jurisdiction should fall to the superior authorities for these to investigate the matter and determine guilt.
For example, imagine for a moment that a brother murders another brother in your congregation. You alone see him do it, and you telephone an elder to tell him what happened. The elder would not question the validity of your accusation because you were the only witness, nor would he delay for a moment in calling the police (if you hadn't already done so). He certainly wouldn't tell you that the body of elders first needs to launch their own investigation to determine guilt before the authorities can be notified, if they are told at all. Murder is a crime, and therefore the police would be called straight away to intervene! Anything else would be reckless in the extreme, and would leave the killer on the loose to kill yet more people.
Just because life is not always lost when a child is molested, child abuse is still a crime and should be treated as such. Therefore, if the Society wishes to insist on using the "two witness rule" to determine whether the SIN of child molestation has been committed, this is their decision. However, just as with murder, child abuse is a crime – therefore the jurisdictional priority falls to the police for them to intervene and determine who the culprit is before anyone else is harmed.
Unfortunately, the Society completely underestimates the harm caused by child abuse. As an example, you need look no further than the previously quoted scripture in 1 Timothy 5. Please read again what it says in verses 24 and 25:
"The sins of some men are publicly manifest, leading directly to judgment, but as for other men [their sins] also become manifest later. In the same way also the fine works are publicly manifest and those that are otherwise cannot be kept hid." (1 Timothy 5:24,25 – New World Translation)
What Paul is saying here is that when some people sin it is "publicly manifest" because someone witnesses it. However, sometimes when people sin, it becomes "manifest later". In other words, the sinful pattern continues until the person makes a mistake and gets caught in the act by two or more witnesses. By using this scripture, the Society is effectively saying: "Don't worry if a pedophile abuses a child but nobody witnesses it, because he will very likely abuse another child, and THEN we will catch him."
You may find the way I have paraphrased this verse shocking, but this is effectively what is being said in the way this verse is applied in the letter. This highlights more than anything else the Governing Body's callous disregard for the serious and devastating effects of molestation on young children. They feel that abused children are expendable as "evidence" in the primary goal of bringing a sinner to repentance. The law views things very differently, and maintains that a molester should be brought to justice BEFORE he abuses another.
In this way, through their stubborn refusal to let go of the "two witness rule" in judging cases of child abuse, the Governing Body demonstrates how oblivious and dispassionate they have grown regarding their responsibility to protect the children under their stewardship. Our Governing Body should be letting the Law judge cases of crime, and only THEN, after the Law has intervened, busy themselves with deciding which of these crimes constitute sin. Instead, they proudly bypass the law and allow themselves to judge cases over which God has appointed the "superior authorities" to adjudicate. – Romans 13:1
This is the problem that lies at the very heart of this ongoing problem with child abuse – a total failure to grasp the seriousness of it as a crime first-and-foremost. It is for this reason that, rather than humbly conform to the law and basic principles of community responsibility, the Society proudly continues to drag this on to the bitter end. The Governing Body would rather "go down fighting" and try to weather the storm of lawsuits and adverse publicity than reform its policies and thereby protect children.
No change on reporting
The letter instructs elders to advise parents that they bear the primary responsibility for protecting their children, but it does not explicitly state what this means – namely that parents should immediately contact the authorities to report an accusation of child abuse without fear of reprisals in the congregation.
Paragraph 10 of the letter attempts to shift blame for when things go wrong from the elders to the parents, who in most cases turn to the elders for guidance and are assured by them that everything is being "dealt with". The Society uses this passage in the letter in a cowardly way, getting elders to inform parents that they bear responsibility rather than directly reminding parents through their publications to report all cases of abuse to the police.
Note what is said in paragraph 10…
"Regardless of whether the law requires the elders to report an accusation to the authorities, steps need to be taken to protect children. Elders should help the parents of the children involved to understand that they have the primary responsibility for protecting their children. Obviously, such parents will be keenly interested in taking precautions in this regard. Our publications contain helpful information on how parents can protect their children.—w10 11/1 p. 13; w08 10/1 p. 21; g 10/07 pp. 3-11; lr pp. 170-171; g03 2/8 p. 9; g99 4/8 pp. 9, 11; g97 4/8 p. 14; w96 12/1 pp. 13-14; fy pp. 61-62; g93 10/8 pp. 5-13."
I have checked each of the above publication references to see what they say, and they mostly offer advice on how to prevent child abuse in the first place using such precautionary measures as (1) discussing sex with your child at an early age, (2) telling children how to respond to would-be attackers, i.e. "I'm going to tell on you!" (3) not allowing teenagers to dress provocatively, (4) keeping an eye on the child's use of the internet, (5) being vigilant of other adults' behavior towards your children.
Out of all the above-quoted references, the final reference from the 1993 Awake! article is the only one that comes close to instructing parents to contact the authorities in the event of child abuse. It has this to say:
"Some legal experts advise reporting the abuse to the authorities as soon as possible. In some lands the legal system may require this. But in other places the legal system may offer little hope of successful prosecution." – Awake! 1993 10/8 page 9
The Society would likely argue that the above half-hearted admonition doesn't dissuade parents from contacting the authorities. However, it's surely plain to see that the word "some" was inserted in the first sentence to immediately instill doubt as to whether this is always the right course of action to take, and the final sentence in the paragraph hardly fills parents with hope of a favorable outcome if they call the police. In short, the paragraph is inserted in the article by the writers through legal necessity, and the Society does everything they can to make contacting the authorities sound like something that is either optional or sometimes ineffective.
The article even goes on to urge similar caution with seeking help from a psychiatrist, and suggests parents or victims should only do this if the professional will "respect" Witness beliefs.
"Parents must therefore make every reasonable effort to protect their children! Many responsible parents choose to seek out professional help for an abused child. Just as you would with a medical doctor, make sure that any such professional will respect your religious views. Help your child rebuild his or her shattered self-esteem through a steady outpouring of parental love." – Awake! 1993 10/8 page 9
Overall, the references provided in the letter as evidence that the Watch Tower Society "protects" children are at best insulting if used on a parent whose child has just been molested (i.e. if you'd done all this, it wouldn't have happened!), and at times the statements made in the quoted publications are downright hypocritical. Consider the following quote, also in the 1993 Awake! article…
"AFTER using children to satisfy perverted lusts, after robbing them of their security and their sense of innocence, child molesters still want something else from their victims—SILENCE. To secure that silence, they use shame, secrecy, even outright terror. Children are thus robbed of their best weapon against abuse—the will to tell, to speak up and ask an adult for protection.

Tragically, adult society often unwittingly collaborates with child abusers. How so? By refusing to be aware of this danger, by fostering a hush-hush attitude about it, by believing oft-repeated myths. Ignorance, misinformation, and silence give safe haven to abusers, not their victims." – Awake! 1993 10/8 page 5
The hypocrisy in the above quote is astonishing, coming from an organization that refuses to openly encourage parents to always report those who abuse their child to the authorities in the first instance. The failure to encourage parents to approach the authorities is precisely the sort of "hush-hush" approach which, to use the words of the Awake!, results in the Watch Tower Society unwittingly collaborating with child abusers. The only difference is, with each passing lawsuit and media onslaught, the Society's damaging stance on child abuse becomes less and less "unwitting", and more and more deliberate.
Branch to decide on who is a "predator"
In these new instructions, elders are told to "remain vigilant with regard to the conduct and activity" of someone accused of child abuse. This advice applies "especially" to those who are found guilty of child abuse but who are not disfellowshipped (reproved), as well as those who are disfellowshipped for child abuse and later reinstated. Consider what is said in paragraph 12 of the letter…
"Loving elders should take steps to protect children, especially when a judicial committee determines that the one who has sexually abused a child is repentant and will be allowed to remain a member of the Christian congregation. The same concern would be shown when one who has sexually abused a child is disfellowshipped, later cleans up his life, and is reinstated. The elders should be especially mindful of the activity of any who are known to have sexually abused a child in the past. They should also ensure that newly-appointed elders are made aware of this caution. It would be appropriate for elders to talk kindly but very frankly to individuals who have manifested a weakness in this regard, strongly cautioning them to refrain from displaying affection for children, to avoid hugging or holding children on their lap, never to be alone with a child (other than their own), not to allow children to spend the night in their home, not to work alone in field service (hence, they should always be accompanied by another adult), and not to cultivate friendships with children. This not only serves to protect children but will help to prevent those who have sexually abused a child from putting themselves in the way of temptation, being subjected to an unfounded accusation, or doing things that may cause concern to others in the congregation. (1 Cor. 10:12, 32) If the individual does not follow this direction from the elders, the elders should immediately call the Service Department for assistance."
As mentioned, the above guidelines are specifically applied to cases where a child molester is found guilty of child abuse by the elders and either "let off with a warning" (reproved but not disfellowshipped) or disfellowshipped and then later reinstated.
Paragraph 11 indicates that a person who is accused of child abuse but not found guilty by a second witness may also have his "conduct and activity" watched, although the letter does not make clear whether an accused person would be warned or watched to the same extent as a reproved or reinstated person, or how long this surveillance would go on for. One assumes this is left to the discretion of the branch office, who advise the elders on how to deal with each case individually.
With all of the above in mind, what happens if someone accused or found guilty of child abuse ignores the elders' warnings and spends time around children? Please consider paragraph 13…
"If the individual [the accused, reproved or reinstated child molester] does not follow the above direction from the elders [to completely avoid children], or if the elders believe he may be a 'predator,' the elders should immediately call the Service Department for assistance. A 'predator' is one who clearly lacks self-control and by his actions provides reason to believe he will continue to prey on children. Not every individual who has sexually abused a child in the past is considered a 'predator.' The branch office, not the local body of elders, determines whether an individual who has sexually abused children in the past will be considered a 'predator.' If the branch office determines that an individual will be considered a 'predator,' parents with minor children will need to be warned of the danger that exists so that they can protect their children. In such a case, and only after receiving direction and instructions from the Service Department, two elders should be assigned to meet with the parents of minor children in order to provide a warning. At the same time that parents are warned about an individual, it would be appropriate for the elders to inform the individual that parents in the congregation will be discreetly informed."
On the surface many elders reading this letter may feel satisfied that the Society is finally allowing them to warn parents in the congregation of a predatory pedophile being in their midst. However, when read in context, elders are ONLY given this permission at the sole discretion of the branch – not the local law enforcement, or even based on their own concerns or observations. It is left to men in a remote office with only second or third hand knowledge of the situation to decide whether families should be warned that there is a predatory pedophile in the congregation worshipping alongside them.
Most disturbingly, even these seemingly robust instructions still allow loopholes through which committed and cunning child molesters may still find opportunities to prey on young children. By way of an explanation, consider the following scenario…
A loophole in the "predator" rule
Imagine a man is found guilty of child molestation following a judicial committee hearing. Despite his best efforts to cover his tracks, a mother in the congregation has discovered him molesting her child and has immediately reported him to the elders. Because there were two witnesses to the abuse (the mother and the child), the man sees little point denying it and confesses everything to the elders when they question him.
In the judicial committee hearing the man weeps profusely and expresses deep regret for what has happened. He tells the elders that he is spiritually weak, and needs their help. The elders decide he is repentant and they reprove him, but do not disfellowship him. Instead, they warn him to stay away from other children in the congregation, and advise him that they will be keeping a close eye on his "conduct and activity".
An announcement is read from the platform, "Brother So-and-so has been reproved" as per the instructions in the elder's manual. Nobody in the congregation (apart from the elders and the victim's family) know what he has been reproved for, and the parents of the abused child are informed by the elders that the matter has been "dealt with".
It is now for the branch office alone to decide whether he is a "predator", and so far (to the elders' knowledge) he has only abused one child, so they proceed under the assumption that he will not abuse another. Therefore, no other parents in the congregation are warned of his abuse because the branch have not deemed the brother a "predator".
The parents of the abused child are hesitant to approach the authorities, because they have been assured that it has been dealt with judicially – even though they have been informed that the "responsibility" for protecting their child rests with them (and shown a number of articles to imply that it was their fault in the first place for not taking better care). The elders may never have told the parents NOT to inform the authorities, but neither have they told them that they SHOULD report the abuse. The parents are therefore under the illusion that this is first-and-foremost a judicial matter against their "brother", and from their viewpoint, everything is under control. They have trust that Jehovah has resolved matters, and that no other children will be harmed.
The elders are now supposed to be "on alert" regarding ANY contact that the brother may have with children in the congregation. The problem is, this is a relatively small body of elders, all of whom have jobs and families of their own, and they cannot be everywhere all of the time. Only the victim, the victim's parents and the elders themselves know what has happened, and all of these individuals are observing strict confidentiality according to the Society's guidelines.
The man belongs to a field service group that is under the oversight of an elder who works long hours. Although the elder takes the field service arrangement on a Saturday, he entrusts the midweek field service arrangements to his group assistant, who is a ministerial servant. This servant knows that the brother has been reproved, but doesn't know what for, because this is strictly between the brother, the elders, and the victim's family.
It is the time of the school holidays, and the brother shows up at the midweek meeting for field service and asks to work with a young girl who is there with her mother. The mother knows nothing, the girl knows nothing, and the servant who is leading the group is also completely oblivious to any danger. They go out in service together.
The man finds he has opportunity to work with the young girl repeatedly through the school holidays in midweek. He is fully aware of the warning from the elders and cunningly goes out of his way to only work with adults during the weekend when the elder is present. The servant feels no need to tell his Group Overseer anything because he doesn't know what the brother has been reproved for. Also, the servant sees the brother working with adults during the weekend, so he suspects nothing.
So you see, even after these latest guidelines from the Society have been implemented – a cunning and determined predatory pedophile could still find loopholes to exploit, allowing him or her to gain access to children in the congregation at an opportune moment. I have considered just one scenario in this article, but there are many similar permutations that a determined child molester could conceivably take advantage of, whether they are accused, reproved, or reinstated.
Even so, some might say, "Well, even if that brother does something to the young girl, he might then be caught, disciplined by the elders, and labelled a 'predator' by the branch – and under the new rules all the parents in the congregation would then be alerted by the elders". However, those who argue in this manner are, like the Society, failing to see the point. If the confirmed child molester in the above scenario succeeds in abusing just one more young girl before being caught and exposed to other parents as a "predator", he has still abused one victim too many who could otherwise have been protected if the elders had been allowed to perform their duty to warn parents in the congregation of someone who has previously been found guilty of child molestation.
This is precisely the problem with Watchtower policy regarding child abuse, it allows opportunities to pedophiles where none should exist – and just one victim who is abused as a result of these loopholes is one victim too many. This is what the Society fails to understand, because they do not fully grasp the seriousness of child sexual abuse.
Branch to decide who is a "known child molester"
In the eyes of the law, a "known child molester" is someone who is known to have molested a child. In other words, if a body of elders are aware that a brother or sister in the congregation has molested a child, then in the eyes of the law that person is a "known child molester" to them. However, even in this simple area the Watch Tower Society insists on having their own definition of the term. Why? This is all to do with the matter of who gets to serve as a congregation elder.
Note the following words from paragraph 15…
"Who is considered a known child molester? The January 1, 1997, Watchtower article 'Let Us Abhor What Is Wicked' mentions on page 29 that a man 'known to have been a child molester' does not qualify for privileges in the congregation. The expression 'known to have been a child molester' has reference to how such a man is considered in the community and in the Christian congregation. In the eyes of the congregation, an adult 'known' to be a former child molester is not 'free from accusation' or 'irreprehensible,' nor does he have 'a fine testimony from people on the outside.' (1 Tim. 3:1-7, 10; 5:22; Titus 1:7) In view of his past, those in the community would not respect him and congregation members might be stumbled over his appointment. Keep in mind that the branch office, not the local body of elders, determines whether one who has sexually abused a child is considered a known child molester."
Notice from the above how, regardless of whether a person has been found to molest a child with the elders having full knowledge of their actions, the Society insists that only THEY should have the authority to decide whether someone is to be considered a "known child molester". What is the reason? Put simply, they do not believe that molesting a child at some point in the past is necessarily grounds for a brother to not serve as an elder in the future. It's shocking, but true.
If this sounds too outrageous, you need only read paragraph 22 – and the first sentence in particular…
"It cannot be said in every case that one who has sexually abused a child could never qualify for privileges of service in the congregation. However, the elders will certainly want to be very cautious, especially when dealing with one who had repeatedly engaged in this kind of wrongdoing or who had been disfellowshipped for such an offense. Before privileges can be extended, such a man must meet the Scriptural qualifications of being 'self-controlled' and 'irreprehensible.' He must 'also have a fine testimony' from individuals inside and outside the congregation. (Titus 1:6-8; 1 Tim. 3:2, 7) Elders should keep in mind what is stated in the January 1, 1997, Watchtower article 'Let Us Abhor What Is Wicked,' page 29, paragraph 2: 'Child sexual abuse reveals an unnatural fleshly weakness. Experience has shown that such an adult may well molest other children. True, not every child molester repeats the sin, but many do. And the congregation cannot read hearts to tell who is and who is not liable to molest children again. (Jeremiah 17:9) Hence, Paul's counsel to Timothy applies with special force in the case of baptized adults who have molested children: 'Never lay your hands hastily upon any man; neither be a sharer in the sins of others.' (1 Timothy 5:22).'"
Once again, here we have a clear example of the Society not taking child abuse seriously enough. They admit in their own publications that "many" child molesters repeat their "sin" – yet they stop short of admitting that, for this reason, it would be entirely wrong to allow ANYONE who has previously molested a child to serve in a position of trust as an elder or ministerial servant. By making such a serious lapse in judgment, they fall foul of the words they themselves quote from 1 Timothy 5:22 and become sharers "in the sins of others".
A terminally flawed policy
The Watch Tower Society's child abuse policy is like a leaky bucket – however it is adjusted or reworked, it is rendered entirely useless by the Society's insistence on the "two witness rule". No matter how they try to adjust the policy, it is still ineffective and dangerous because it allows determined pedophiles to find loopholes through which to operate without hindrance.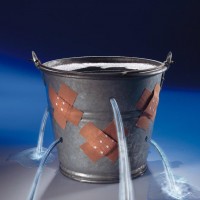 What is needed is not an amended patched-up policy that still allows child abusers to exploit loopholes, but a NEW policy – one that recognizes that it is the God-assigned role of Caesar's law enforcement authorities to decide who is or isn't a child abuser, and not unqualified ministers.
At the core of any such new policy should be three key principles. These principles might be summarized under the acronym "RIP", or "Report, Inform, Prevent", as follows…
REPORT – Child abuse is a crime. Therefore, accusations or confessions of child abuse should be reported to the police or law enforcement authorities

immediately

when they come to light.
INFORM – Parents in a congregation should be discreetly informed by the elders of any known pedophile who might potentially come into contact with their children by worshipping alongside them. There should also be no repercussions for parents who wish to inform other parents of a known child molester if the elders fail to do so for any reason. Elders should also be freely able to inform the elders of another congregation if a known pedophile decides to move on.
PREVENT – Child molesters should be prevented from serving in positions of trust in any congregation, or from enjoying privileges that would enable them to gain unsupervised access to children or conceal their history from congregation members.
The above principles are both reasonable, legally compliant and scripturally justifiable. They reflect the fair expectations of a modern society where any institution bears a responsibility to protect the children under its care from known child molesters. The sad part is, most Witness parents probably expect some if not all of the above principles to already be in place, but the truth is – none of them are.
It is disturbing to think of the number of children who are taken to Witness meetings each week by parents who are totally oblivious to the true depth of negligence in their congregation's child abuse policies as dictated by the Governing Body. If all Witness parents were fully aware of the true ramifications of such policies, many would likely be shocked and appalled.
How it is…
As things stand, child abuse victims and their parents are often locked into a "triangle of secrecy" with their abuser and the elders. The police are marginalized and the Branch assumes complete control of the situation through the elders. In turn, the elders take their orders only from the branch and not from the local authorities, who are mostly kept out of the loop unless they are contacted and therefore able to intervene. Other parents are also oblivious to what is going on, meaning that the abuser has a greater likelihood of finding more victims.
Unless the abuser openly tries to spend time with other children, other parents are not to be informed of his "sin", even if he is found guilty and disfellowshipped according to the "two witness rule". Child molesters can therefore use this "triangle of secrecy" to bide their time and prey on yet more victims, as I have already discussed in my hypothetical scenario above. But it doesn't need to be this way!
How it should be…
If everything were to be done properly, the police would be involved from the very beginning in every case. If the victim (or the victim's family) approached the elders BEFORE informing the police, then the elders would tell them to phone the police immediately. The police would then assume full management of the situation, including conducting their enquiries with the accused, supporting the victim (taking evidence, offering therapy, etc), and informing the elders as to whether other parents in the congregation need to be warned (for example, if the accused is released on bail until the trial and still wishes to attend meetings or go out in service).
Under this correct arrangement, the role of the elders would simply be to pass on information, protect the other children in the congregation, and provide spiritual support wherever needed (as depicted by the grey arrows in the diagram). If the Governing Body wishes, there wouldn't even be any need for the elders to accept a criminal prosecution as evidence of wrongdoing on the part of the accused if they don't want to – they simply have to fulfil their responsibility to inform others who may be at risk, and not impose any sanctions on those who take it upon themselves to do this.
During the investigation, this would mean the elders warning other parents in consultation with the police if the police deem it necessary, and advising the branch office of what is happening. Contact with the branch office would be of particular importance if the accused was an appointed man (an elder or ministerial servant) within the congregation, but otherwise it would be a mere formality because the authorities would be managing the situation, and the elders would be taking advice straight from them.
This is how it should be, but despite the modest improvements in this latest letter (which actually make the Society more vulnerable to lawsuits than ever before), we are still a long way off from seeing policies introduced that would genuinely protect Witness children from devious, cunning and committed child molesters in the future.
What this letter proves
Firstly, this letter proves that despite the enormous uproar surrounding the Conti case the Society is STILL refusing to seize this obvious opportunity to introduce urgently needed reform to their out-dated, ineffective and dangerous child abuse policy. Over the decades the Watch Tower Society has clearly grown out-of-touch and oblivious to the very real dangers that its current flawed policy exposes children to.
I have already demonstrated this by highlighting the Society's use of 1 Timothy 5:24,25 to imply that, even if a child abuser succeeds in covering his tracks to begin with, he will eventually be caught when he repeats his "sin" in the future – as though the number of victims a child molester accumulates before he is stopped are expendable. As another example of the Society's failure to take the threat posed by child molesters seriously, consider the following statement in paragraph 11 of the letter…
"If the decision is to reprove [a child abuser], the reproof should be announced. (ks10 chap. 7 par. 20, second bullet) This will serve as a protection for the congregation. Information concerning an individual accused of child molestation, proved or otherwise, should be placed in the congregation confidential file and marked 'Do Not Destroy' and kept indefinitely."
Precisely how is the congregation "protected" by an announcement from the platform that "So-and-so has been reproved" when there is no information as to the nature of his wrongdoing? The very fact that the Society can consider a vague platform announcement as a "protection" is extremely disturbing, because it demonstrates that they have no idea what they are doing. Just because an individual is reproved, this does not mean parents will assume he is a child molester – or is this how all parents should now look upon anyone in the congregation who is reproved?
In addition to giving clear evidence that the Society is seriously out of its depth in coping with this urgent problem, the very release of this letter proves something else, perhaps even more profound. This letter, which must have been leaked by a conscientious elder, proves that there is a growing movement of unsettled elders who know there is something deeply wrong about the organization, and are starting to find the courage to do something about it.
I salute the honesty, bravery and conscientiousness of whichever elder forwarded this letter to my colleagues for our analysis and distribution to others. Whoever did this has real courage and is to be greatly admired for putting the needs of Witness children first above everything else. The very fact that the Governing Body can no longer release letters in privacy shows that any claims that their organization enjoys the support of God's spirit are entirely unfounded.
What can you do?
As you read my article, you may perhaps feel helpless or even enraged that so many children within the Witness faith are being endangered by the Governing Body's neglect in their approach to child abuse. This is completely understandable, and as you can perhaps tell from my writing, I share this sense of deep despair and frustration.
As I've said before, the Governing Body has shown itself to be completely disinterested regarding the concerns and opinions of those whose lives they control, but this doesn't mean we should all simply give up and not try to do something about it. If you have the courage and the circumstances, please pass the information in this article along to someone else so that as many people as possible can learn about this new letter and how it falls so woefully short when it comes to protecting children.
If you're not able to take such bold action, that's totally understandable. Still, I would urge you to register your disapproval of the Watchtower's shamefully negligent child abuse policies in our 2012 JW Survey (to take part, click here). Four of the options in the final question relate directly to the issues I have discussed in this article, so you can make your voice heard (anonymously, if you want) by ticking to say that you disagree with the Governing Body's approach to child abuse. This is only a relatively small thing that you can do, and there are no guarantees that it will make a difference – but it's still a means by which you can tell the Governing Body that you disapprove of its failure to safeguard the children under its self-assumed duty of care.
For more background on this issue, please read Barbara Anderson's new essay entitled 'Megan and Candace – Casualties of Known Molesters'